How Using Biological Dentistry is a Good Choice for Protecting Oral and Overall Health
Stittsville, ON residents have a unique opportunity to receive ultimate oral care through holistic dentistry. Holistic-minded dentistry is being aware of how whatever happens in the mouth can affect the rest of your body, and even the other way around. If antibiotics need to be prescribed, we recommend using probiotic therapy because we believe that the flora in the gut needs to be healthy for a healthy body. We have a dental meridian chart that shows where energetic connections can be made between teeth and other systems of the body.
Learning More About Biological Dentistry in Stittsville, ON and why we are a Mercury-Free Dentistry
Traditional Pharmaceuticals – We are using traditional pharmaceuticals and local anesthetics, but we try to minimize, eliminate or complement the use of pharmaceuticals with less harmful substances. For example: we may substitute the use of antibiotics for a gum infection with a powerful oil based ozonated salve, grapefruit seed extract, or a form of irrigation with a take home syringe.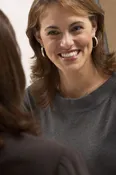 At our office, we pay attention to the dental materials used in the mouth to ensure that our patients don't experience any reactions to the materials. We stay away from metals such as nickel and mercury, which is known to have a high rate of allergic reactions. We do not place mercury amalgam fillings, because these types of fillings are known as a toxin. We find it to be very important in paying attention to what chemicals we use on our patients. Many of them can be absorbed through the mucous membrane and can then enter the bloodstream.
For more information on our mercury-free Biological Dentistry contact the practice of Dr. Roy Kang. Call our Stittsville, ON dental office for questions or to schedule an appointment. Call us at (613) 831-2021 today!